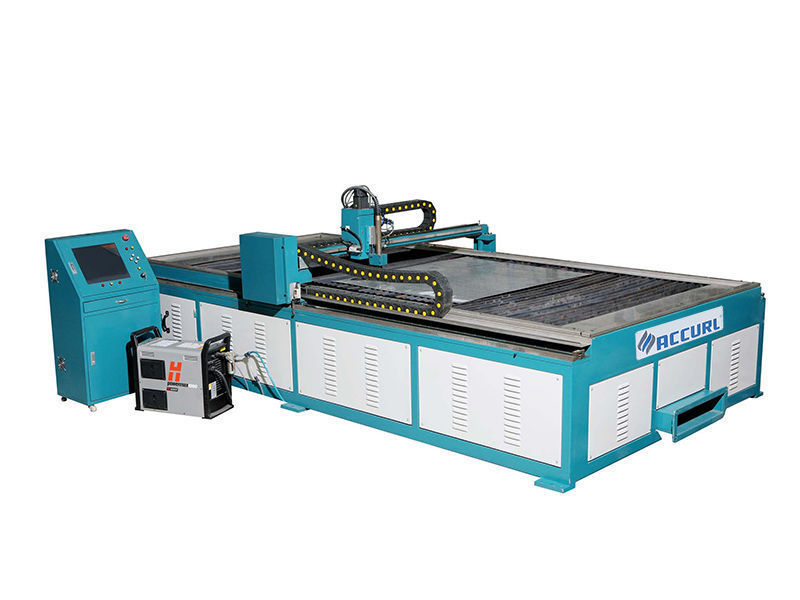 Product's advantages:
---
1.Fast cutting speed,high precision and low cost.
2.With firm and reasonable structure.the machine is easy to operate and durable for use.
3. Rezni rez je tanak i uredan i može izbjeći drugu obradu.
4.High configurated CNC system, auto arc-striking and stable performance.
5.Together with other advertising equipment, they form an advertisement producing line which completely solve the problem of traditional manual mode.
6.Can cut metal plate of advertising 3D lighting letter and flute profile letter with high cutting precision.(USA power is optional).
7.Support standard G code router files that made by software such as ARTCUT , CAXA ,ARTCAM and TYPE3.Converted by certain software,it can also read DXF file that out of AUTOCAD,The control system, adopting U flash disk to change the processing files,is easy andconvenient to operate.
Brzi detalji
---
Stanje: Novo
Voltage: 50HZ, 380V,3 Phase
Rated Power: 7.5kw, 40A/45A/60A/63A/65A/85A/100A/120A/160A/200A/260A
Weight: 1000KG
Certification: CE ISO FDA
Warranty: Two Year
Dostavljena usluga: Inženjeri dostupni za servisiranje strojeva u inozemstvu
Color: red blue white
Rated power: 20KW
Cutting speed: 0-8000mm/s
Driving system: motor and driver
Working area: 600x900mm/1300x2500mm/1500x3000mm
File transfer: USB
Cutting accuracy: ≤0.1mm
Travelling speed: 0-50m/min
Technical parameter:
---
Radno područje

1300 * 2500mm
1500*1300mm
Customizable
Debljina sečenja

(40A)0.5--10mm

(40A)0.5--10mm
(40A)0.5--10mm
(120A)3-16mm
(120A)3-16mm
(120A)3-16mm
(200A)3-25mm
(200A)3-25mm
(200A)3-25mm
cutting speed
0-8000mm / min
0-8000mm / min
0-8000mm / min
Brzina kretanja
0-50000m/min
0-50000m/min
0-50000m/min
snage
8.5KW-10.5KW
8.5KW-10.5KW
8.5KW-10.5KW
Ulazni napon
3 Phase380V
3 Phase380V
3 Phase380V
Frekvencija napajanja
50Hz
50Hz
50Hz
Prenos datoteka
USB
USB
USB
Applicable industries:
---
Ship Building,Construction Equipment,Transport Equipment,Aerospace Industry,Bridge Building,Military industrial,Wind power,Structural Steel,Boiler containers,Agriculture MachineryChassis electrical cabinets,Elevator manufacturers,Textile Machinery,Environmental protection equipment,ect.
Primjenjivi materijali:
---
Aluminum,Copper,Titanium,Nickel,Iron,Galvanized sheet,White steel,Titanium plate,Carbon steel,Stainless steel,Alloy steel,Composite metal.
Naše usluge:
---
1.Two years warranty for the whole machine.
2.Teach video and detailed manual sent with the machine.
3.24 hours online support.
4.Professional technical support
5.Free design and guide for customer
6.Free software update
7.We can supply the new machine parts or fix the old one.
Proizvođači strojeva za rezanje plazmom cnc
,
mašina za rezanje plazmom visoke definicije
,
industrijska cnc mašina za lasersko rezanje
,
mašina za rezanje plazma profila