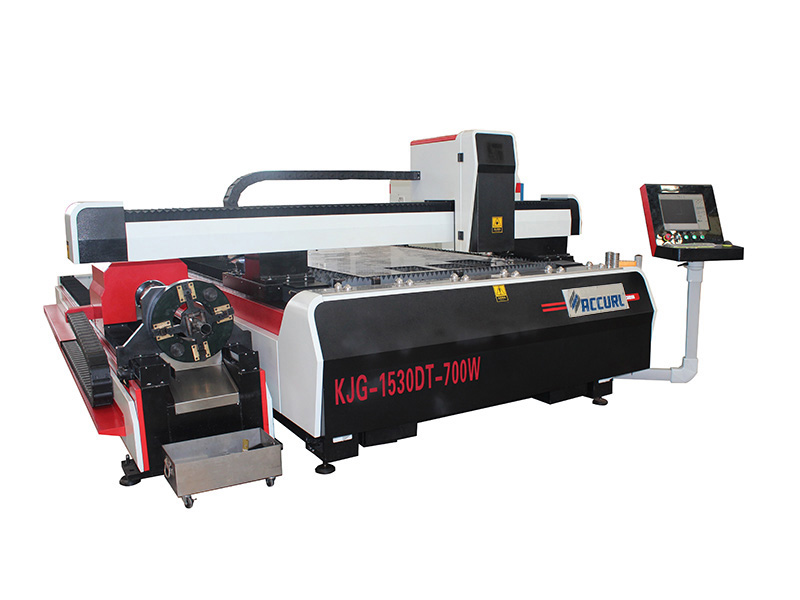 A fiber laser is a laser in which the active gain medium is an optical fiber doped with rare-earth elements such as erbium.
The way it generates its beam is distinctly different from that of a Co2 laser which uses resonators.
Fiber lasers are much more ecofriendly than Co2 lasers using typically less than 50% power consumption compared to a Co2 Laser.
They are also more reliable and cut parts up to 6mm thick 30-40% quicker than a Co2 Laser.
Značajke mašina za lasersko rezanje vlakana
1.Excellent beam quality: Smaller focus diameter and high work efficiency, high quality.
2.High cutting speed: cutting speed is more than 20m/min.
3.Stable running: adopting the top world import fiber lasers, stable performance, key parts can reach 100,000 hours
4.High efficiency for photoelectric conversion : Compare with CO2 laser cutting machine ,fiber laser cutting machine
imaju trostruku efikasnost fotoelektrične pretvorbe
5.Low cost: Save energy and protect enviroment.Low electric power consumption.
6.Low maintenance: fiber line transmission, no need reflect lens,save maintenance cost;
7.Easy operations: fiber line transmission, no adjustment of optical path;
Tehnički datum mašina za lasersko rezanje vlakana
Model
mašina za lasersko rezanje vlakana
Laserski tip
Raycus fiber laser
Laser working medium
Fiber
Laserska talasna dužina
1064 nm
Lasersko napajanje
300w, 500w, 750w, 1000w etc
Beam quality
<0.373mrad
Controlling system 4 axis
Bochu  (Made in Shanghai)
System language
Multi languages
Rezna glava
U.S.26
Motor
750W YASKAWA servo (Made in Japan)
Speed reducer
Delta
Transmission and guide rails
Transmission way for X Y axis
Rack gear (Made in Germany)
Guide rails for XY axis
Imported HIWIN Square guide rail
Ball screw for Z axis
THK ball screw (from Japan)
Tabela
Sawtooth
Voda hladnjak
1P
Rotary system
Diameter of rotor
100mm (can actually up to 150mm)
Length of rotor
according to u request
Industrial computer
Yan hua
Effective cutting range
3000* 1500mm
Graphic format supported
Auto cad, Corel draw, PLT, DXF, BMP, AI, DST, DWG, etc
Table axial positioning accuracy
≤ ± 0,03 mm / m
Repeat positioning accuracy table
≤±0.02mm/m
Brzina sečenja
≤30m/min
Maksimalna debljina rezanja
10 mm (according to laser power )
Maximum table load
1600KG
Power Ratings
Three-phase  380V 60Hz
Snaga
6-20KW
Total power protection class
IP54
1 Raycus fiber laser generotor
2 US 26 cutting head
3 Bochu controlling system
4 Japan Omron limit switch
5 Water chiller 1p
5 Germany speed reducer
Applications materials of fiber laser cutting machine
Laserski strojevi za rezanje vlakna naširoko se koriste u proizvodnji bilborda, oglašavanja, znakova, signalizacije, metalnih slova, LED slova, kuhinjskog roba, reklamnih slova, obrade lima, komponenti i dijelova metala, željezne opreme, šasije, regali i ormarića, obrade metala, umjetničkih proizvoda od metala, rezanje panela dizala, hardver, auto delovi, okvir naočala, elektronski delovi, natpisne tablice itd.
Is suitable for stainless steel, mild steel, carbon steel, alloy steel, spring steel, iron, galvanized iron, galvanized sheet, aluminum,
copper, brass, bronze, gold, silver, titanium plates, metal sheets, metal plates, metal tubes and pipes, etc.
Primjena industrije:
Laserski strojevi za rezanje vlakna are widely used in manufacture Billboard, Advertising, Signs,
Signage, Metal Letters, LED Letters, Kitchen Ware, Advertising Letters, Sheet Metal ProcessingMetals Components and Parts, Ironware, Chassis, Racks & Cabinets Processing,
Metal crafts, metal art ware, elevator panel cutting, hardware, auto parts, Glasses Frame, Electronic Parts, Nameplates, etc.
Cheap 500W CNC Metal Fiber Laser Cutting Machine for Sale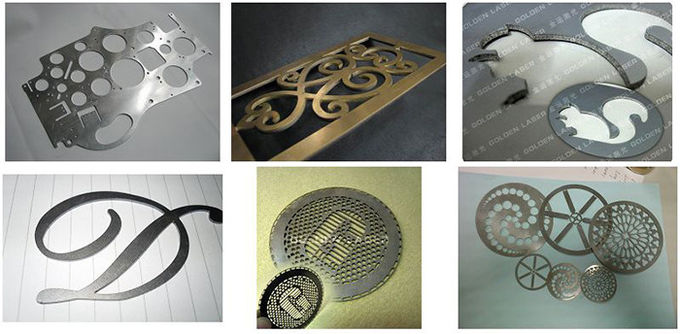 Cutting ability & Consume
Materijal
Debljina (mm)
Speed(mm/s)
Gas Pressure(MPa)
Plin
Cutting Height
Nehrđajući čelik
0.5
>200
1
N2
0.6
1
90~120
>1.1
N2
0.6
2
16~20
>1.5
N2
0.6
Ugljični čelik
1
120~150
1
O2
1
2
35~45
0.6~0.8
O2
1
3
15~18
0.3~0.5
O2
1
naše usluge
1)24 Months for for the whole machine.
2)All the machines will be full tested before shipment.
3)Laser tube 100000 hours' working time.
4)24 hours technical support-- email, telephone or video online.
5)User-friendly English manual for machine using and maintaining.
---
industrijska cnc mašina za lasersko rezanje