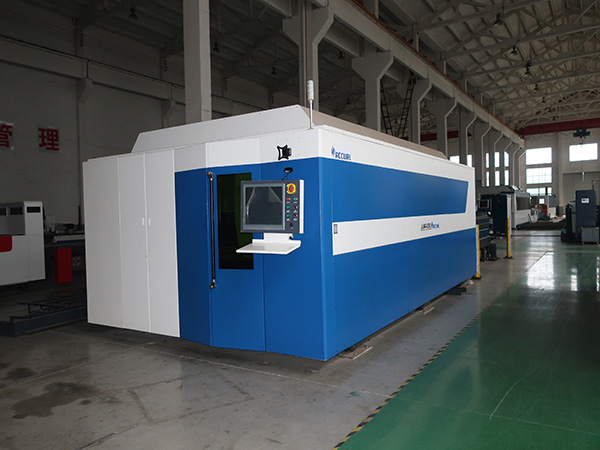 Značajke
---
ACCURL fiber 750W/1000W metal laser cutting machine, which has the advantages of simple structure, light weight, less welding, convenient processing, easy to install and operate. In addition, the machine can be packaged to one part, easy to transport by container.
ACCURL fiber 750W/1000W metal laser cutting machine adopts imported rail and heavy racks from Taiwan, Japanese Panasonic servo motor and driver and American laser mech laser head. All this parts match well with each other, machine's stability is great. Our this fiber 750W/1000W not only can cut stainless steel, carbon steel, also can cut some high reflected materials, such as the aluminum and copper. Meet some customers' needs.
Advantage of our machine:
---
1. Primjena nosača i integriranog lijevanog poprečnog nosača za postizanje veće čvrstine, stabilnosti, otpornosti na udarce.
2. Laserski izvor visokih performansi i stabilan operativni sistem koji daju najbolji učinak rezanja.
3. Mašina posjeduje savršen sustav hlađenja, sustav podmazivanja i sustav za uklanjanje prašine, kako bi se osiguralo da on može stabilno, efikasno i trajno raditi.
4. Mašina je sposobna za automatsko podešavanje visine kako bi održala stalnu žarišnu duljinu i stabilan kvalitet rezanja.
5. Mašina se koristi za rezanje različitih metala izvrsne i stabilne kvalitete rezanja.
6. Specijalizirani CAD / CAM softver za automatsko programiranje i softver za automatsko gniježđenje imaju za cilj maksimalno uštedu sirovina.
7. Pristup CNC sistemu putem Ethernet sučelja omogućava komunikaciju i daljinsko nadgledanje tokom postupka laserskog rezanja.
Applicable industry:
---
Aerospace technology, rocket, plane, robot, elevator, steamship and automobile manufacturing and metal parts processing industry for metal plate, advertisement, kitchen ware, bit tool, hardware etc.
Applicable material:
---
1.Application Materials: Fiber Laser Cutting Equipment is suitable for metal cutting with Stainless Steel Sheet, Mild Steel Plate, Carbon Steel Sheet, Alloy Steel Plate, Spring Steel Sheet, Iron Plate, Galvanized Iron, Galvanized Sheet, Aluminum Plate, Copper Sheet, Brass Sheet, Bronze Plate, Gold Plate, Silver Plate, Titanium Plate, Metal Sheet, Metal Plate, Tubes and Pipes, etc
2.Application Industries: BODOR Fiber Laser Cutting Machines are widely used in manufacturing Billboard, Advertising, Signs, Signage, Metal Letters, LED Letters, Kitchen Ware, Advertising Letters, Sheet Metal Processing, Metals Components and Parts, Ironware, Chassis, Racks & Cabinets Processing, Metal Crafts, Metal Art Ware, Elevator Panel Cutting, Hardware, Auto Parts, Glasses Frame, Electronic Parts, Nameplates, etc.
naše usluge
---
Training and Use
1. We will supply with the machine operation manual in English version for installing and operation.
2.Customer can come to our factory training .
Warranty and After service
1.Our warranty is 12 months counting from the date when the Machine arrives at the port of destination.
2. We will supply after service 24 hours per day,customer can contact us any time.
3.When some problems can't be solved by customers, our engineer can go to door to help.
FAQ
---
P1: Nisam znao ništa o ovoj mašini, koju vrstu mašine bih izabrao?
Vrlo lako odabrati. Samo nam recite šta želite raditi pomoću CNC laserske mašine, a zatim dopustite da vam pružimo savršena rješenja i prijedloge.
P2: Kada sam nabavio ovu mašinu, ali ne znam kako da je koristim. Sta da radim?
Sa mašinom ćemo poslati video i engleski priručnik. Ako još uvijek imate nekih nedoumica, možemo razgovarati telefonom ili skypeom i e-mailom.
P3: Ako se neki problemi dogode sa ovom mašinom tokom garantnog roka, šta da radim?
Besplatne dijelove ćemo isporučiti tijekom jamstvenog roka za stroj ako ima nekih problema. Dok također pružamo besplatan život dugo nakonprodajne usluge. Dakle, bilo kakve sumnje, samo nas obavijestite, mi ćemo vam ponuditi rješenja.
P4: Prije nego što mi pošaljete upit o našem laseru od vlakana, bolje je da mi date sljedeće informacije
1)Your metal or non-metal material size. Because in our factory, we have different models according to working area.
2)Your materials.
Metal/Acrylic/plywood/MDF?
3)You want to engrave or cut?
If cut, could you tell me your cutting thickness? Because different cutting thickness need different laser tube power and laser power supplier.
Brzi detalji
---
Primjena: Lasersko rezanje
Stanje: Novo
Tip lasera: CO2
Primenljivi materijal: akril, kristal, staklo, koža, MDF, metal, papir, plastika, pleksiglaks, šperploča, guma, kamen, drvo
Debljina sečenja: ovisi
Površina košenja: 1300 * 2500mm
Brzina sečenja: 0-60000mm / min
CNC ili ne: Da
Način hlađenja: Vodeno hlađenje
Control Software: Raycus
Graphic Format Supported: AI, BMP, DST, DWG, DXF, DXP, PLT
Certification: CCC, CE, ISO
Dostavljena usluga: Inženjeri dostupni za servisiranje strojeva u inozemstvu
Product name: industry fiber laser cutting machine
engraving area: 1300x2500mm
Laser tube: 60w, 80w , 100w, 150w ,180w
Resolution ratio: 0.025mm
Minimum shaping character: Chinese Character 2mm Letter1mm
Resetting positioning accuracy: ±0.01mm
Power supply: Ac220v±10%,50HZ
Gross power: <1300w
Operating humidity: 5%-95%(free of condensed water)
Dimension: 1950x1800x1000mm
---
akrilna mašina za lasersko rezanje
,
dobavljač mašina za lasersko rezanje