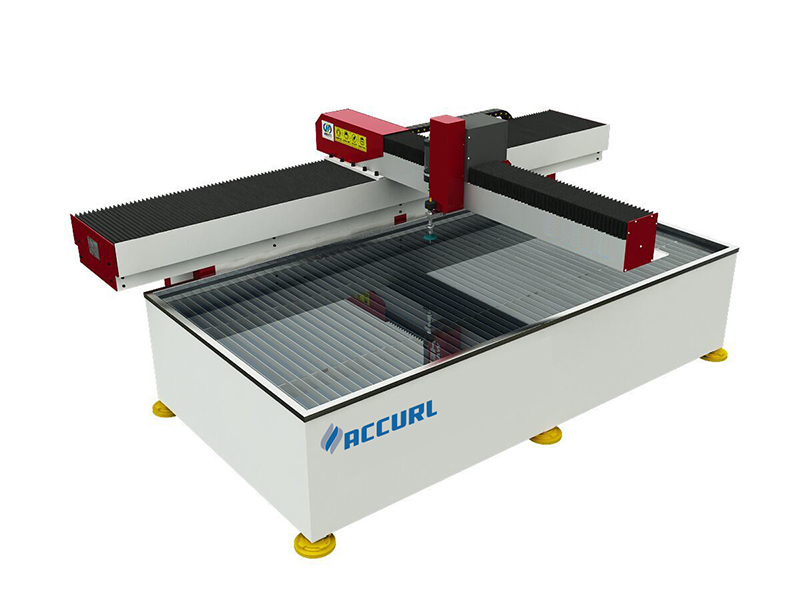 opis proizvoda
---
One full set of stroj za rezanje mlazom vode consists of cnc controller,worktable ,pump ,abrasive delivery system ,cooler.
other optionals : chiller ,sullage removal system, water soften unit.
PUMPA VISOKOG TLAKA WATERJET
Glavna karakteristika:
Upravljanje: PLC
Menjanje: elektro-hidraulično upravljanje
Hlađenje: hladnjak / izmjenjivač topline ulja
Točnost filtra vode pustite: ≤0,45 μm
Točnost filtra za povrat ulja: 20 μm
Radna temperatura: 0-60 ° c
Izlaz: UNF 3/8 "
Hlađenje u ulaz / izlaz: NPT1 "
pressurize :intensifier type
weight :1200kgs
CBM:3.5M3
Related Products
1,stroj za rezanje mlazom vode(3 axis)
2,Dynamic 5 axis waterjet machine
(marble granite tile design)
3,MAX series 5 axis waterjet cutting machine
(bevel cutting 0-±45°)
naše usluge
One year guarantee:
Guarantee that machine is new advanced and no defect of material and technologic.
- Guarantee that technical date is integrated clean and right, also satisfy the requests of installation debugging test operation and maintenance.
- Guarantee that provide technical service and training in time.
Brzi detalji
---
Stanje: Novo
Type: Stone Cutting Machine
Use: Marble
Production Capacity: marble ceramic granite tile
Mjesto porijekla: Anhui, Kina (kopno)
Naziv marke: ACCURL
Model Number: L1515/2015/3015/3020/4020
Voltage:380/220/400V ,3PH
Power(W): 30/37KW
Dimension(L*W*H): as to model
Weight:3000-7000kgs
Certification: CE ,ISO
Garancija: 1 godina
Dostavljena usluga: Inženjeri dostupni za servisiranje strojeva u inozemstvu
Machine name: water jet cutting machine used for non metal cutting with 3D bevel
Cutting materials: Stainless steel , brass, aluminum, stone ,plastic ,glass.etc
power: 30KW/37KW,40/50HP
High pressure: 300-400mpa
Točnost sečenja: +/- 0,1 mm
Maksimalni protok: 3,7 L / Min
abrasive name: garnet
accumulator ca.: 1Liters
drive system: AC servo and screw ,guideway
Montaža pojačivača: Hypertherm (Accustream), KMT (H2)
CNC Water Jet Cutting Machines (Gantry /Cantilever type)

(General technical characteriestics)

Table Model (as to ask)
Jedinica
YC-L2015
YC-L2515
YC-L3015
YC-L3020
YC-L4020
YC-L4030
YC-X1520
Područje sečenja
mm
2000 * 1500
2500 * 1500
3000 * 1500
3000 * 2000
4000 * 2000
4000 * 3000
1500 * 2000
Točnost sečenja
mm
+/- 0.1
+/- 0.1
+/- 0.1
+/- 0.1
+/- 0.1
+/- 0.1
+/- 0.1
Tačnost pozicioniranja
mm
+/- 0.05
+/- 0.05
+/- 0.05
+/- 0.05
+/- 0.05
+/- 0.05
+/- 0.05
Ponovljivost
mm
0,025
0,025
0,025
0,025
0,025
0,025
0,025
X,Y dry-run speed
m / min
0-15
Brzina sečenja
m / min
(as to detail material and thickness)
Motion for X.Y
HIWIN/TBI ballscrew and guideway ,mitsubishi servo motor to drive
Materials to cut
Copper ,steel ,rubber ,marble ,granite ,plastic ,glass ,aluminium etc (almost all kinds),thickness 0-120mm
Supply condition
Air ,water ,electricity ,abrasive(garnet),hydraulic oil
Max pump pressure
mPa
380/

410

380/

410

380/

410

380/

410

380/

410

380/

410

380/

410

Snaga
kW/ hp
30-37/

40- 50

30-37/ 40-50
30-37/ 40-50
30-37/

40- 50

30-37/

40- 50

30-37/ 40-50
30-37/ 40-50
Control by
Siemens
LOGO!
LOGO!
LOGO!
LOGO!
LOGO!
LOGO!
LOGO!
Inlet water supply:
mpa
>0.4
>0.4
>0.4
>0.4
>0.4
>0.4
>0.4
Softver
Shanghai NAIKY software (NC STUDIO) / MITSUBISHI servo drive / ADVANTECH industrial computer
Snaga mašine

(can be customized)

V

(3ph,50/60hz)

220/
380/415
220/
380/415
220/
380/415
220/
380/415
220/
380/415
220/
380/415
220/
380/415
granitna mašina za rezanje mlazom vode
,
visokotlačna mašina za rezanje mlazom vode
,
Mašina za rezanje stakla vodom mlaznice
,
Mašina za rezanje čeličnim mlazom vode