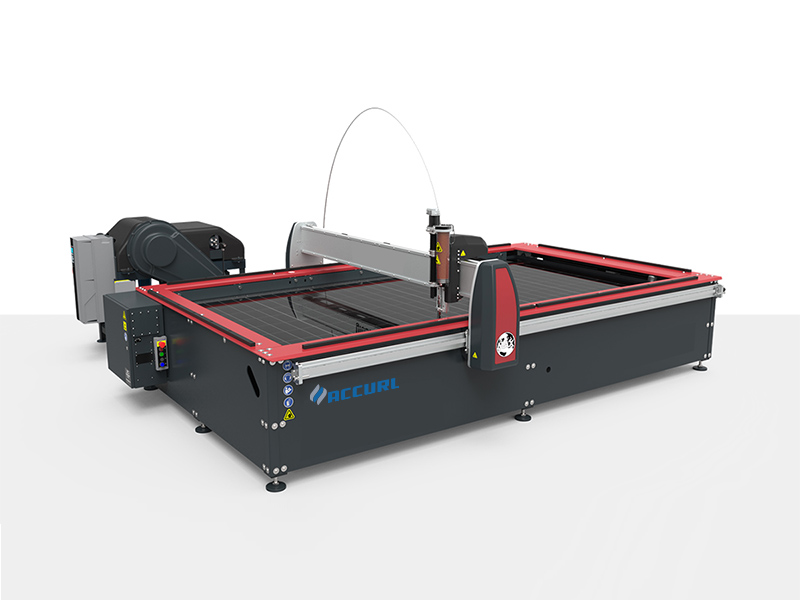 opis proizvoda
---
High Pressure 5 Axis CNC Waterjet Cutting Machine
One set waterjet cutting machine including 4 parts:
1.(Bridge)Water jet cutting table
2.Intensifier pump box
3.CNC kontroler
4.Auto abrasive supply
Značajka mosta:
1.Adopt konfiguracija servo pogona Tajvanski vijak, linearni vodič može postići bešavno kretanje, kako bi se osigurao nesmetan rad. Da bi se osigurao nesmetan prenos cele mašine.
2.Steel baza, grede uvezene visokokvalitetne bešavne čelične cijevi, a zatim ispraznite pravu termičku obradu, nevidljive promjene.
3.A full range of cutting capacity, any plane curve cutting.
4.Specially reinforced bed structure, so that the cutting head does not produce vibration during high-speed operation, the machine runs smoothly, cutting speed, high precision machining.
5.The screw and guide provided by the well-known Taiwan manufacturers, X, Y-axis is the original oil-immersed screw rail lubrication, plus a waterprooof, dust-proof structure to ensure that the machining accuracy of CNC cutting platform, and maximize the service life of the screw guide.
Cutting Material And Thickness:
Stainless steel:60mm, Plastic and foam:200mm
Aluminum:120mm, Glass:80mm
Keramika: 80mm, mermer: 80mm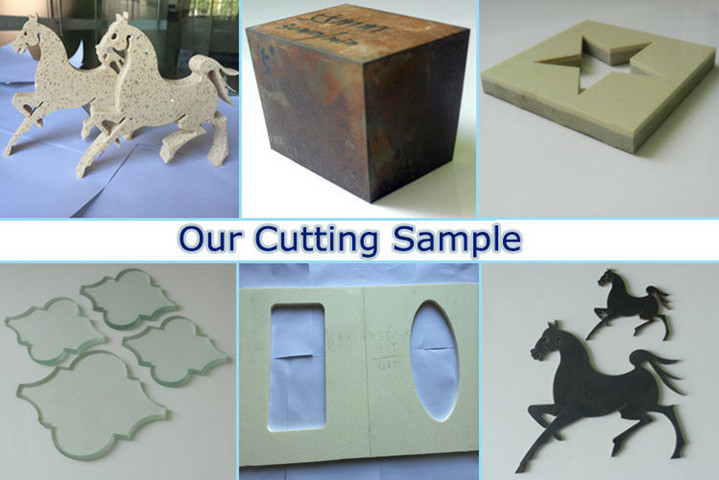 Technl Data
Model
RC3020
Struktura
Most
Veličina stola za sečenje
3100 * 2100mm
Stroke
X osa
3000mm
Y os
2000mm
Z-os
60-80mm
CNC kontroler
Korak sistem / AC servo sistem
| | |
| --- | --- |
| Parametri turbopunjača | |
| Model | 450B |
| Maksimalni pritisak | 450Mpa |
| Normalan radni tlak | 350-380Mpa |
| Glavna snaga motora | 37KW |
| Pumpa za ulje | Varialbe |
| Hlađenje | Voda / ulje / vjetar |
| Cilindar visokog pritiska | Uvezeno |
| Ulazni ventil | Uvezeno |
| Keramička šipka | Uvezeno |
| Akumulator | Jednostruki konus |
| Napajanje strujom | 415/380/220V AC 3P(according to local voltage) |
visokotlačna mašina za rezanje mlazom vode
,
stroj za rezanje pjene vodenim mlazom
,
Mašina za rezanje stakla vodom mlaznice
,
Mašina za rezanje čeličnim mlazom vode